"To laugh often and much; to win the respect of intelligent people and the affection of children...to leave the world a better place...to know even one life has breathed easier because you have lived. This is to have succeeded." ~Ralph Waldo Emerson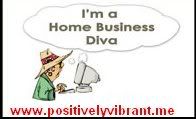 Ralph really got that right! Are you a fun-loving, intelligent person who attracts other merry-hearted people? If you are looking for a business that you can happily operate from your home, check this out:
www.positivelyvibrant.me
Have you read these blogs?
Closet Entrepreneur?
Open Minded?
Did you ask your Doctor?
Becoming the Blessing
Are You Wise?
Changing Who You Think You Are Financially
Baby Steps to Creating your Financial Identity
Coming Apart
Willingness to do Whatever it Takes