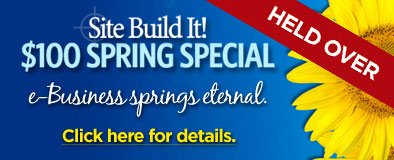 I personally love SBI
but don't have a video like this fellow does... I am building my SBI site at
http://natural-gran.com
and helping my friend build hers at
http://howtobehealthynaturally.com
While we learn how to build a site, we are making cash and learning about important internet commerce components such as Adsense and Key Words. I pay $299 a year to build and maintain my SBI site... a good deal, I know,
but you can do just as I am doing for only $100 when you take advantage of the Spring Special
. I'd do it if I were you!
Sincerely,
Cynthia Zirkwitz
Natural-Gran.com



"In addition to reading ten pages a day of a motivational or inspirational book...listen to a self-improvement CD for at least 15 minutes every day... If you spend that time listening to educational and self-improvement material, you'll have the equivalent of a Ph.D. on any subject you choose in just a few years. That's the Slight Edge." ~Jeff Olson, author of "The Slight Edge: Secret to a Successful Life"